PZ-Technik GmbH
PZ-Technik has produced professional dental tools for horses since 2005 and offers equipment for providing dental treatments.
Our experience as horse-dental practitioner and skilled toolmaker enable us to continuously develop our tools and to optimize them.
For producing our equipment we use ultramodern 5-axes controlled CNC-machine-tools guaranteeing highest precision and quality. Choosing the material from which our machines are made is a very important issue for us: we only use high-alloyed stainless steels which meet the requirements for the intended use.
Quality Made in Germany!
Maulgatter "TARO 2015" nach Holger Rosenberg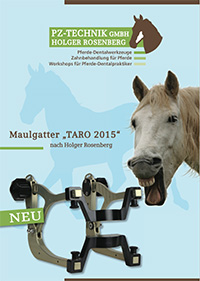 The top priority of the new "TARO 2015" jaw gate is safety for both handler and horse.
Dental tools have a long history
There are some manufacturers of dental grinding machines throughout the world and each of them promotes his machines by pointing out his invention and/or development! It is, however, proved that dental treatments for horses have been provided since about the year 1900. If this development is due to one man,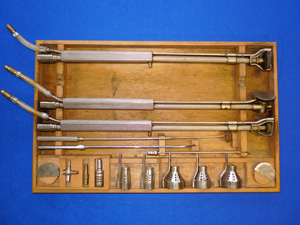 then this man is Dr. Erwin Becker. He developed the first dental grinding machines not later than in 1932 and it is our duty today to further optimize this skill.
Convince yourself that we have managed to realize this challenge with our dental tools.
Operating and use instructions PZ - Tooth Grinding
Download Operating and use instructions for PZ - Tooth Grinding